I love my paper organizers... I purchased this wall system from a local scrapbook store that was going out of business ~ and for super cheap!




Organizing and figuring out just were to put all this neat stuff.....................
Yes, it can be a daunting task, but it can also be a fun one in which you will need to pull from within ~ your most creative inclinations.... Ok, so have I pumped any of you up with all that fancy talk yet? Hopefully, I didn't scare anyone away.....
Seriously scrappers.... we have to know were everything is or at the very least ..... were it goes in order to grab it when that spark or in some cases explosion of creativity comes along.
The is nothing worse than needing ......
THAT PAPER
.... you know the perfect one with all the glitter and oh yes
THAT INK
yes the ink that matches those adorable little swirly designs going down the side of that perfect paper ........ Ohhhh it that would be just perfect for this layout........ but YIKES were is it?
If this is you....... stay tuned for some ideas, inspirational photos of my journey or more appropriately termed quest to de-clutter my space plus I will try to add in some photos of other's awesome spaces that I have come along during my travels down the internet highway gathering ideas. To get you started, here are a few great books that I have used to get some of my ideas from, but don't stop here, I have dedicated an entire section on my main website for organization tips and stores to purchase items from - click here if you want to check it out later...
http://www.spunkymonkeyscraptopia.com/spunkymonkey/Organize_Your_Space.html
Be sure to check back often as I am always updating my site with the latest greatest!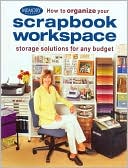 For more books, software, and ideas be sure and check out my web site
http://www.spunkymonkeyscraptopia.com/spunkymonkey/Home.html
..... updating it now! Here are just a few picture ideas I snapped to get you thinking about your space..... I hope you enjoy looking at mine!
This is one of my favorite items..... I am not sure if they are still available... I have been searching both on-line and in person and no luck so far! If I find them I will post a link!




These ribbon holders are both affordable on most budgets (they fit right into my microscopic budget at least!) and they are super functional! I will try to find a link for these too for you but for now I did find these great options... enjoy!
A Nice Desk Top Version and also nice to your pocketbook...... yes, again with the budget stuff! Sorry scrappers but I am always looking for the deals! Anyway, this is cute and will keep your ribbons handy for you in a pinch!
Watch for the next blog.......... paper organization! I decided since this organizing stuff is no easy or simple task that I would break down the various sections in my space (mainly the ones I had issues with and I am guessing you may too...) and provide as much detail and directions with tips and information! If anyone has any great ideas they would like to post............. then join us in this challenge of getting our spaces organized!